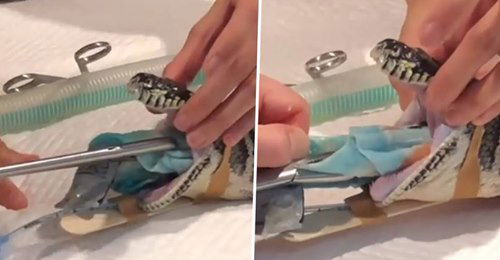 Monty the python's eyes ended up being bigger than her stomach when the 18-year-old snake swallowed an entire beach towel whole.
A video emerged this week that shows doctors at the SASH animal hospital in New South Wales, Australia, yanking the beach towel out of the snake's belly while it was under anesthesia. Some people on the internet have deemed the ordeal as 'oddly satisfying.'
ODDLY SATISFYING: Team of vets pull AN ENTIRE BEACH TOWEL out of a python in Australia – with their bare hands. pic.twitter.com/rjzR2lrmEW

— CBS News (@CBSNews) February 27, 2020



According to SASH's statement posted with the video, the team anesthetized the large reptile before taking radiographs to find where the towel was exactly in her body.
They then used a long pair of forceps to pull the towel out of Monty. While this may have seemed like an invasive procedure, the hospital was quick to note that Monty had a swift recovery and discharge.
"Monty was discharged from hospital the same day and her owner reports she is back to her happy, hungry self," they wrote on Facebook.