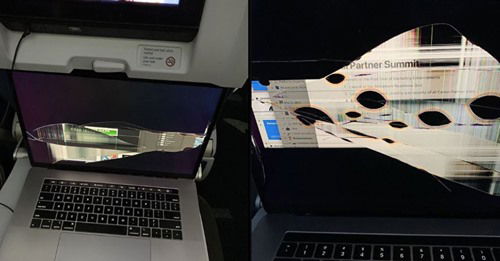 A passenger on Delta Airlines had their expensive Apple laptop destroyed when the person in front reclined their seat. 
Pat Cassidy posted a photograph on his Twitter account showing his smashed-up MacBook Pro laptop.
The screen is shattered and only partially working after Cassidy wrote that the passenger in front of him decided to lean back with the reclining seat aboard a Delta flight on Wednesday.
@Delta small note for the suggestion box, maybe have a little warning sign or someway to prevent my laptop from being destroyed when the person in front of me reclines their seat. pic.twitter.com/QHmphXiDhH

— Pat Cassidy (@HardFactorPat) February 26, 2020



This incident comes after a recent debate on whether you should ask the people behind if it's okay to recline your seat, opposed to doing it without warning.
People have expressed views for both sides of the argument. Many claim that there is no harm in being polite, whereas others state that it's their right to recline at any given time.
Pat also told how he received no sympathy from the airline's flight attendant.
"I really appreciate that your flight attendant came over to tell me that the passenger in front of me 'needs to be able to recline' and then asked him 'if he was okay?' as if your seat hadn't just ruined my livelihood," he posted.
He then tweeted sarcastically: "@Delta Silver Medallion Member here, how many SkyMiles is a brand new MacBook Pro?"
The tweet went viral, generating more than 4,500 likes and nearly 400 retweets.