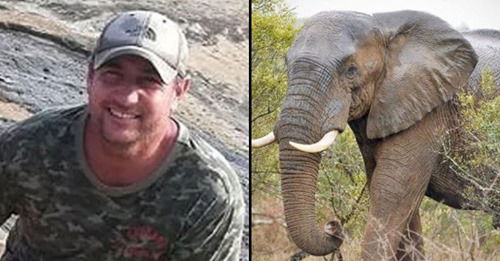 A herd of elephants in South Africa face being shot dead after two rogue elephants killed a conservationist trying to shepherd them back to a reserve.
Reserve of Mawana head Beyers Coetzee, 45, was trampled and gored to death while trying to guide 32 elephants back to safety after they had strayed off. Employee Thobani Masondi, 38, was by Mr Coetzee's side when he died last week.
He said: "I was leading and Beyers was close by and had been setting off the crackers and I warned him the elephants were getting angry.
"But he wanted to get them over the river into the safety of the reserve. I did not see the two elephants but I could smell them. Then they came out the bush from 15 metres.
"Everyone was running and I nearly collided with Beyers then I heard a thud as the bulls hit him and they had him. There was nothing that anybody could do to help him."
Ezemvelo KZN Wildlife which has previously questioned Mawana's Loziba Wilderness project over uncompleted fencing is deciding whether to cull the 31 strong elephant herd.
Its spokesman Musa Mntambo confirmed they were investigating the circumstances of the death of Mr Coetzee but had not yet decided the fate of the herd.
He added: "We are in the business of conserving animals and a decision to destroy any animal is taken with a heavy heart and in most cases is done to prevent the further loss of life."
But sources close to the authority said that a cull of the entire herd was being put forward.