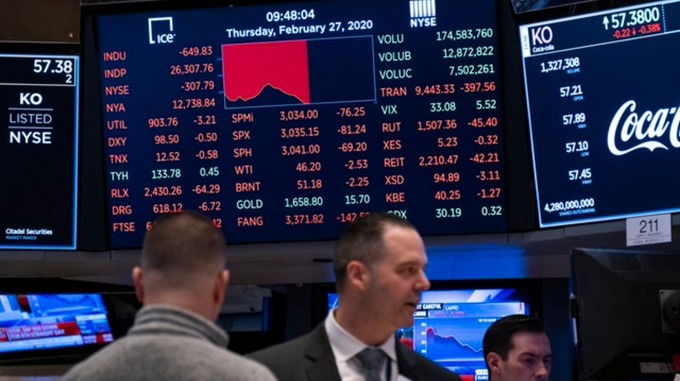 London's FTSE 100 index was down 3.2%  and US markets suffered their worst week since the global financial crisis of 2008, as fears over the impact of the coronavirus continued to grip investors.
The news of more coronavirus cases, notably in Italy, has raised concerns of a much larger economic effect than previously expected with Bank of England Governor Mark Carney warning the outbreak could lead to a downgrade of the UK's growth prospects.
Other countries are also reassessing their economic forecasts, as hundreds of firms warn of disruptions to their supply chains and a decline in consumer demand.
Investors are worried the coronavirus could spark a global recession.
In Europe, Germany's Dax index fell 4.2%, while France's Cac 40 index sank 3.9%.
Earlier on Friday, in Asia, Japan's Nikkei 225 index dropped 3.7%, bringing its fall for the week to more than 9%. China's Shanghai Composite index also fell 3.7% on Friday.
Amid the sell-off, Federal Reserve chair Jerome Powell put out an unusual statement, saying the US central bank was "closely monitoring" developments.
"The fundamentals of the US economy remain strong. However, the coronavirus poses evolving risks to economic activity," he said. "We will use our tools and act as appropriate to support the economy."