The Unemployment Rate in Spain is expected to be 14.50 percent by the end of this quarter, Cadiz in Southern Spain is a typical example of this "Boom and Bust" cycle workers experience every year.
In the long-term, the Spain Unemployment Rate is projected to trend around 12.90 percent in 2021, so just why does Spain have this very high unemployment figure?
The peak tourist season in the Spanish province of Cadiz is the time of year when many local Spanish people manage to get full-time employment. The beaches are full of tourists from all over Spain, the high winds and flat planes offer fantastic windsurfing experiences.
Then, after a great season, the sky turns dark, the tourists leave, the hotels become empty- it's over until next year and jobs are axed leaving the un-employed to claim a few hundred euros per month in benefit.
The unemployment rate in the southern province is 25%, among the highest in the developed world.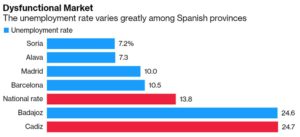 Deep-seated domestic problems are thought to be the main cause of the problem.  The country has the European Union's highest rate of precarious temporary contracts; the highest rate of high school dropouts and among the highest portions of low-skilled workers. It has one of the lowest rates of mobility, which means Spaniards often stay in cities with few job opportunities.
"It is a dysfunctional labor market," said Marcel Jansen, a professor at the Autonomous University in Madrid. "We need to bring structural unemployment back to reasonable levels."
"Successive governments have failed to tackle the over-reliance on temporary contracts. The only major, recent attempt to improve labor laws was in 2012, a post-crisis revamp credited with spurring the economic expansion."
Related
These unemployment rates are expected to increase as fears of the coronavirus have seen many holiday cancellations to Tenerife and mainland Spain, according to reports there will also be a drop in the number of Tourists this year travelling to Spain.