SAVE the Children has rewarded a Cuevas del Almanzora school for its work on defending and promoting the rights of the child.
A representative from Save the Children paid a visit to the Nuestra Señora del Rosario school in Guazamara to present a plaque recognising the education centre as an ambassador for the ONG due to all its efforts and for taking part in solidarity races for the last 13 years.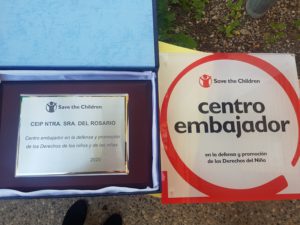 In the same week the school's pupils, teachers and parents marked the 40th anniversary of the 1980 referendum which paved the way for Andalucia becoming an autonocximous community. Cuevas Mayor Antonio Fernandez and Sport, Youth and Citizen Participation councillor Miriam Quintana went along to the school to watch performances by the kids and to join in with a lunch created from typical local produce.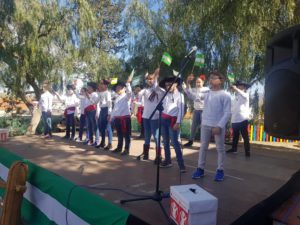 The Mayor praised the school for continually organising activities "to defend important values like caring for the environment, inclusion, team spirit, helping others and peace."
He told them, "you do a great job, which without you realising, keeps alive the spirit of union and of and of fighting for progress which our kinsmen and women had 40 years ago."