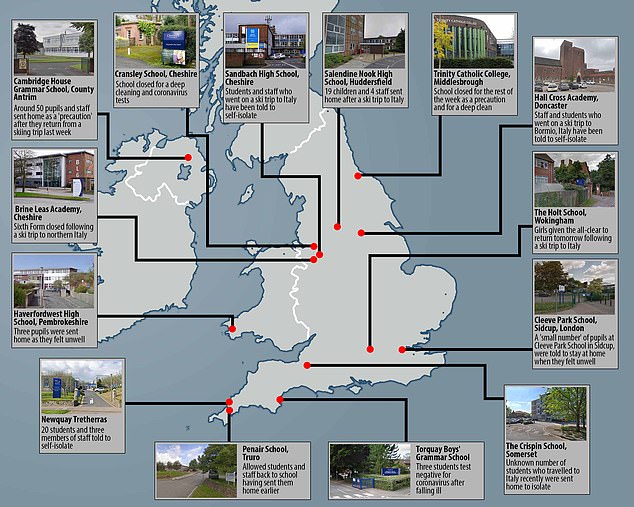 More Schools could be closed and travel disrupted as thousands of Britons will be tested by GPs for coronavirus, amid fears that the explosion of cases in Europe means there could be far more cases in the UK than are known about.
Mass surveillance will be introduced, as Britain ramps up its response to the growing threat, with health planners considering school closures and transport restrictions if the danger spreads.
The virus has now killed more than 2,600 people and infected almost 80,000 others, in more than 30 countries –  including 11 countries in Europe.
There are currently 11 towns in northern Italy that have been locked down after 11 people died from the virus and more than 300 others tested positive in a matter of days.
Schools Closed
Cransley School was the first to close after pupils started showing flu-like symptoms when they returned from a ski-trip to Bormio, Lombardy, last week. There were 29 children and five members of staff on the school trip with the private school.
Haverfordwest High School in Pembrokeshire today sent three pupils home after they felt unwell following a ski trip to Modena, Italy, during half-term, the Milford Mercury reported.
The trip did not visit an affected area so the rest of the school continued as normal.
Students at Truro's Penair School turned up for classes this morning but were sent home following their excursion to Ponte di Legno in Lombardy.
Many more Schools and Universities are expected to close this week as staff and students will be sent home to self-isolate.