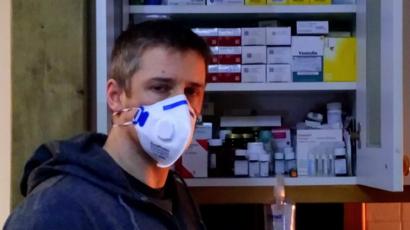 A doctor has been accused of attempting to steal 300 medical face masks from a Malaga hospital in Spain today. Hospital officials caught him red-handed earlier this morning while trying to leave with the masks from the Hospital Clínico Universitario, where he is currently employed. Upon being discovered, the doctor claimed that he was taking the masks for the people in his hometown.
Staff at the traumatology department, where the doctor works, became suspicious after seeing 14 cases of masks accumulate in the stockroom. The masks that the unnamed doctor tried to steal have been described by the hospital as the 'most expensive' and 'recommended' to avoid contagious diseases like the Coronavirus.
An official from the hospital has confirmed that an internal investigation has already been opened to decide on appropriate disciplinary action, once the circumstances have been clarified. The case has also been put in the hands of the hospital's legal department. However, the final disciplinary decision lies with Andalucia's Health Services (Servicio Andaluz de Salud), which is part of the Department of Health and Families at the Junta of Andalucía.
The crime was probably as a result of depleting supply of facemasks in the province, and country. Sources from Malaga's pharmacy school, Colegio Oficial de Farmacéuticos de Málaga, claim that the majority of pharmacies in the province have no more mask supplies left, nor hand gel disinfectant, given the huge demand for this material right now. The scenario is a common one now in many parts of Spain, they added.
However, to date, there have been no reported positive cases of the Coronavirus in Malaga.