THE Almeria cruise ship season has got underway with the docking of the Black Watch at the provincial capital port today Wednesday with 700 British tourists on board.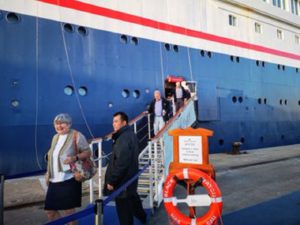 The ship remained docked in Almeria until 6pm, when it set sail for Lisbon.
The ship, which has already visited the province in 2011, is doing a 13-night cruise starting and ending in Southampton, and making ports of call in Cadiz, Malaga, Almeria, Lisbon and Vigo in Galicia.
There are currently 20 cruise ship moorings at Almeria port lined up until November 23.
The Almeria Port Authority revealed that the biggest cruise liner due to dock in the province this year is the 262-metre long Marella Explorer, which will visit in early November. It has capacity for 1,900 passengers and crew.
Five ships are confirmed as coming to Almeria in April, most of them arriving from Malaga.
In 2019 25 cruise liners carrying a total of 7,717 passengers visited the province.