The amphibious assault ship Castilla will dock in Puerto de Motril, in Axarquía, next Friday, coinciding with the Andalusian Day holiday. The Castilla will be open for visits from Friday to Sunday. Visiting hours are: Friday 28, from 4:00 pm to 6:30 pm; Saturday 29, from 10:00 am to 2:00 pm and from 4:00 pm to 6:30 pm; and Sunday 1, from 10:00 am to 1:00 pm.
The mayor of Motril, Luisa García Chamorro, wanted to thank first of all the "effort" made by the Navy. She is convinced that this ship will congregate "an important agglomeration of people", because visits of Navy ships to the Port of Motril "always generate a lot of expectation."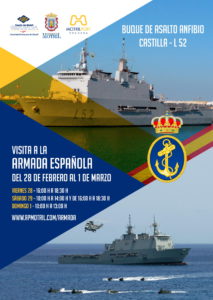 The Naval Commander of Almeria, Víctor Manuel Garay Seijo, explained that this ship belongs to the Galicia class and that, in addition to an amphibious assault ship, it acts as a command platform for the Maritime Headquarters that Spain puts at the service of NATO.
The Town Hall of Motril and the Port Authority have arranged a free shuttle bus service to visit the shop. The buses will depart from the Paseo de Las Explanadas and will arrive at the pier and vice versa, with a periodicity of fifteen minutes.