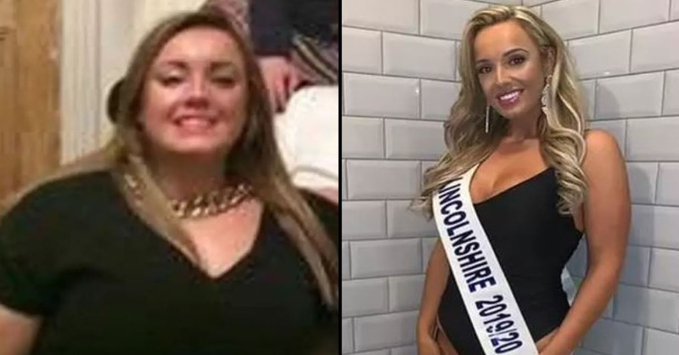 A woman who lost eight stone has been crowned as the new Miss Great Britain.
Jen Atkin, 26, swapped out takeaways for healthy eating and won the longest running pageant in the UK, at the national final in Leicester.
Atkin, an aviation administrator from Ulceby, Lincolnshire, has been promoting a healthy lifestyle following her dramatic weight loss – which she did over a two year period.
Jen slimmed down from 17 stone to 9 stone and was named Miss Scunthorpe prior to competing for Miss Eland in 2018. impressively, she finished as runner-up.
After getting married, Jen decided to retire from competing in pageants. However, she gave it one last shot when she entered the Miss Great Britain competition. That gamble certainly payed off.
After becoming the 75th Miss Great Britain, Jen said: "It was such a shock – three years ago I would never ever expected to be winning Miss GB. Hard work really does pay off."
Miss GB is also a country singer and released her first single in 2018 through record label, MHMG.
Jen said: "I'm so incredibly honoured to be the 75th Miss Great Britain, representing our country alongside my twin brother who runs for Team GB." Brother Sam Atkin competed at last year's European Indoor Championships for the 3,000m distance.
She continued: "There were 45 Miss Great Britain finalists and I was lucky to not only win the personality award but take home the crown and title of Miss Great Britain 2020. It felt absolutely incredible, I'm over the moon."