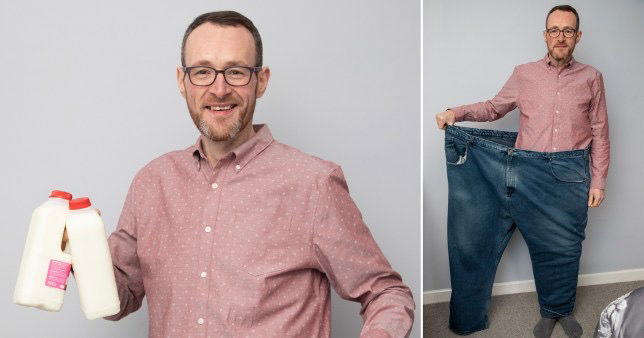 Phil Kayes who was addicted to milk drinking three pints a day loses 21 stone and finds love.
Phil Kayes would eat takeaways seven days a week and wash it down with three pints of milk every day.
The 46-year-old from Bangor, Northern Ireland, weighed 37 stone at his heaviest and medics even warned he may be dead by 40.
In July 2017, After seeing his mum suffer with cancer he decided to take control of his health. In three years, he lost a staggering 21 stone and gained confidence.
And in November 2018, he found the love of his life – Nicole Mulholland.
Phil said: 'I have always been overweight, I can barely remember a time that I wasn't, but it was when I went to university that I put a lot of weight on really quickly.
'I'd drink at least two litres of milk every day – I had enjoyed drinking milk since a young age so when I got home from work milk would be the first thing I would reach for – as well as all of the junk food, and seven takeaways a week.'
Phil had never thought about relationships and resigned to the idea that he'd be single forever. So when he met Nicole, he had a new lease of life.
He said: 'I've met the love of my life and it has given me a renewed purpose and a reason to keep going and stick to my new healthy lifestyle for her.
'Friends walk past me in the street because they don't recognise me. 'I understand because I don't even recognise myself in the mirror, but it makes me feel amazing.'
After some friends introduced him to Slimming World, Phil cut all junk from his diet, swapping takeaways for homemade meals packed with veg.