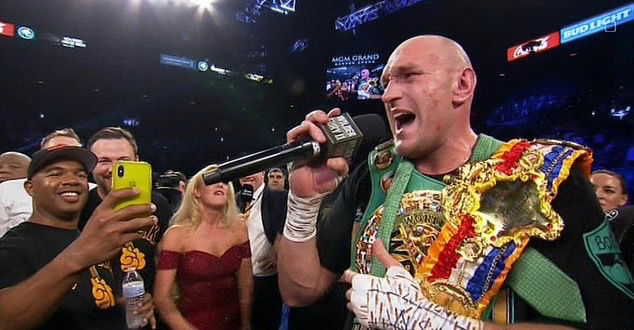 Tyson Fury leads Las Vegas audience in rendition of American Pie following the Gypsy King's stunning KO win over Deontay Wilder. 
Following a stunning win over Deontay Wilder, Tyson was true to form as he grabbed the microphone to perform a rendition of 'American Pie' in front of a mesmerised MGM Grand.
Straight after having his arm raised to the Las Vegas sky by the referee, Tyson jumped on the microphone and wowed the crowd with a vocal performance.
He said: 'I just want to say thank you to my lord and saviour Jesus Christ. I want to say a big shout out to Deontay Wilder. He came here tonight and he really showed heart of a champion. He is a warrior, he will be back, he will be a champion again.
'But I will say the King has returned to the top of the throne. I said I'd sing a song tonight didn't ?'
‼️ WHAT A NIGHT

🇩🇪 Tyson Fury dethroned Wladimir Klitschko in Germany




🇺🇸 Tyson Fury dethroned Deontay Wilder in America.

👏 Amazing Achievement.

🏆 WBC Heavyweight Champion Of The World

L E G E N D#WILDERFURY2 [@Tyson_Fury] pic.twitter.com/hCeqWOLyNi

— All Of The Belts 🥊 (@AllOfTheBelts) February 23, 2020
Tyson broke into a rendition of American Pie, a song he performed in the press conference following his controversial draw with Wilder in December 2018.