With hundreds of infections having been confirmed in South Korea in just a few days, Prime Minister Chung Sye-kyun called the situation "grave."
"We will deal sternly with any acts that interfere with the government's quarantine efforts and add to anxiety among the people," Mr. Chung said in a nationally televised statement on Saturday. He urged citizens not to hoard facial masks or other hygiene products.
More than half of the country's 556 cases are among members of a secretive religious sect, the Shincheonji Church of Jesus, and their relatives or contacts. Between Daegu, the country's fourth largest city, and a nearby province where the sect's members often do volunteer work, 465 people have tested positive.
More than 1,250 members of the sect have reported potential symptoms, and officials are still trying to locate hundreds of members so they can be screened.
The neighborhood around the sect's church in Daegu has turned into a ghost town. Banks, coffee shops, restaurants and convenience stores have all shut down.
Across the city of 2.4 million, department stores, shopping alleys and outdoor marketplaces are drained of shoppers.
The only places more crowded than usual are government-run health centers, where citizens lined up to find out whether they were infected.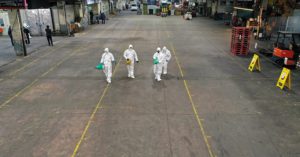 In Busan, South Korea's second largest city, public libraries, a horse racetrack and facilities for senior citizens closed when the city reported its first coronavirus case on Friday.
Many churches have shuttered, instead offering prayer services online. Others stayed open, but skipped hymns or "Amens" to limit congregants' exposure.
The national news agency Yonhap reported people emptying shelves of rice, instant noodle, eggs and other essential food items in some supermarkets in Chuncheon and Ulsan, as both cities reported their first cases on Saturday.
In total, 28 countries outside of China have reported more than 1,500 coronavirus cases.
Italy in a lockdown
Italy and Iran began introducing the sort of containment measures previously seen only in China, which has put tens of millions of people under quarantine lockdown in the epicentre province of Hubei.
More than 50,000 people in about a dozen northern Italian towns near the business hub of Milan were urged by authorities to stay home, shuttering shops and schools.
Among dozens of cases, Italy on Friday became the first European country to report one of its nationals had died from the virus — a 78-year-old retired bricklayer in the region of Veneto.
That was followed Saturday by the death of a 77-year-old woman in Lombardy.
Italian Prime Minister Giuseppe Conte said the government was weighing "extraordinary measures" to halt further infections.
Officials said all patients in Lombardy were linked to a 38-year-old man in intensive care in the town of Codogno, whom Italian media say dined in January with a friend who had returned from China.
The friend has since tested negative, however, illustrating mounting frustration among authorities worldwide over exactly how the virus spreads and the duration of its incubation period.
North Korea takes extreme measures
North Korea orders cargo arriving in the country to be isolated for 10 days and fully disinfected to prevent coronavirus. This follows an order to quarantine foreigners for 30 days
News from Iran
Iran ordered the closure of schools, universities and cultural centres across 14 provinces from Sunday following five deaths in the Islamic Republic — the most outside East Asia and the first in the Middle East.
Iran's outbreak surfaced on Wednesday and has quickly worsened with 28 cases confirmed.
"The concern is… that we have seen … a very rapid increase (in Iran) in a matter of a few days," said Sylvie Briand, director of the WHO's global infectious hazard preparedness department.
Iran's government also ordered all "art and cinema events" nationwide cancelled until the end of the coming week.
Iran is preparing for a parliamentary election on Friday, raising fears that balloting could spread the virus further.
Iraq on Thursday clamped down on travel to and from Iran, and flag carrier Kuwait Airways has suspended flights to the country.
Although Egypt is the only African country with a confirmed case of COVID-19, the WHO warned that the continent's health systems were ill-equipped to cope with a potential major outbreak and urged more cooperation among the African Union.
WHO chief Tedros Adhanom Ghebreyesus said necessary treatment tools such as respiratory support machines are "in short supply in many African countries and that's a cause for concern".