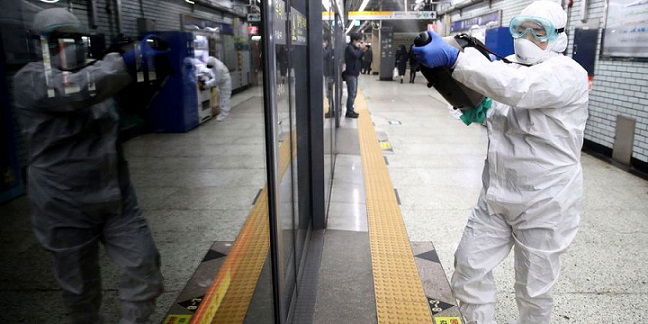 South Korea reported more virus cases Friday and declared a "special management zone" around a southeastern city where the surging outbreak, largely linked to a church in Daegu, threatens to overwhelm the region's health system.
In the capital, Seoul, officials banned major downtown rallies and shut down a big park to avoid mass public gatherings where the virus could spread. Workers in protective gear also sprayed disinfectant in the city's subway.
The spike in cases, especially in and around Daegu city, has raised fears the outbreak is getting out of control in the country, at the same time, the first two cases were confirmed in South Korea's 600,000-member military, a navy sailor and an army officer who had both reportedly visited Daegu recently. Other sailors who contacted him at the Jeju base were placed under quarantine and all other soldiers were also ordered to wear masks.
Prime Minister Chung Se-kyun said in a televised statement the central government will concentrate its support to the southeastern region to ease a shortage in sickbeds, medical personnel, and equipment.
"A month into the (COVID-19) outbreak, we have entered an emergency phase," Chung said. "Our efforts until now had been focused on blocking the illness from entering the country. But we will now shift the focus on preventing the illness from spreading further in local communities."
Initial cases of the illness in South Korea had been connected to China, where the virus has infected 75,000 people and caused more than 2,200 deaths. South Korea on Thursday reported its first virus-related death, one of 11 outside mainland China.
Daegu Mayor Kwon Young-jin on Thursday urged the city's 2.5 million people to stay home and wear masks even indoors if possible.