Two elderly passengers that were onboard the Diamond Princess cruise ship quarantined in Japan have died after contracting coronavirus.
The two Japanese citizens were in their eighties and had underlying health conditions, it has been confirmed British nationals who were stranded on the vessel will be flown home on an evacuation flight on Friday.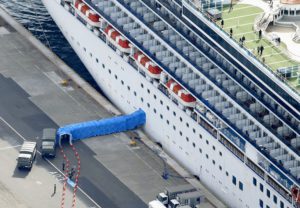 At least 621 people on the Diamond Princess tested positive for the virus. This is the biggest cluster of cases outside mainland China.
Around 500 passengers have already left the ship, which is docked in Yokohama after a two-week quarantine which failed to stop the spread of coronavirus among passengers.