A sea turtle was undergoing a fishing hook removal, when she passed more than 100 pieces of plastic during her rehabilitation. 
Sea turtle, named Zantanna, was on the road to recovery after a hook removal, when she began passing large quantities of plastic waste – including bottle caps, plastic bags fragments and plastic shards.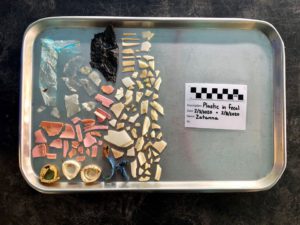 Zanatanna was being treated for the fishing hook removal at Gumbo Limbo Nature Center in Boca Raton, Florida.
This recent case further highlights the issues regarding plastic waste finding its way into the ocean. There are unlimited cases of sea life being affected by our unacceptable management of plastic waste.
Gumbo Limbo Nature Center posted the story to their Facebook page, saying: "This turtle was likely foraging in open water where floating mats of trash are sadly becoming the norm.
"We must take a stand by refusing single-use plastics!"
Many readers took to the comments to vent their frustrations, with the majority also calling to eliminate single-use plastics. It received more than 150 comments and was shared over 2,000 times.