The news "forgery-proof" plastic currency has been produced using a new type of plastic polymer and is the most secure it's ever created, it features JMW Turner's self-portrait and his celebrated canvas the Fighting Temeraire.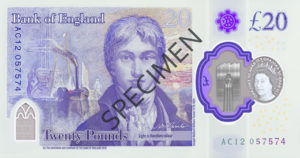 The Bank of England has said you will still be able to use the old twenty notes for at least six months in the Uk.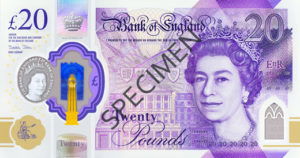 Security Features Hologram on the new note
The word changes between 'Twenty' and 'Pounds' when the note is tilted. A portrait of the Queen is printed on the window with '£20 Bank of England' printed twice around the edge.
The printed lines and colours on the note are sharp, clear and free from smudges or blurred edges. If you use a magnifying glass, you will see the value of the note written in small letters and numbers below the Queen's portrait
The note is printed on polymer, which is a thin and flexible plastic material.  On the front of the note, you can feel raised print. For example, on the words 'Bank of England' and in the bottom right corner, over the smaller window.
Under a good quality ultra-violet light, the number '20' appears in bright red and green on the front of the note, against a duller background.
To see the  full security features of the new note, go to:
https://www.bankofengland.co.uk/banknotes/polymer-20-pound-note