Bailiff's burst into an elderly couples home where a man defended himself and his wife, who has Alzheimer's disease, with a baseball bat.
Dad-of-two Brian Middleton, 72, told how a pair of aggressive bailiff's marched into his home, where he and his wife Irene live. The bailiff's claim that the incident was caused by a case of mistaken identity.
Brian, living with wife of 51 years who suffers from Alzheimer's, said: "I was so panicked I thought I was going to die."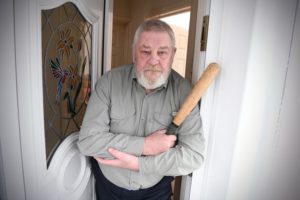 The elderly couple moved into their new home in Abergavenny just 14 months ago and are yet to finish unpacking. Brian said he grabbed a baseball bat from a nearby box and 'took a swing' at the bailiff officers. He also claims that the two officers refused to identify themselves.
"I'm not proud of it, but that's what it took to make them run out of the house," Brian added.
Excel Civil Enforcement sent the officers to the address on February 14. They were executing an arrest warrant to deliver a man to court.
"Neither of the occupants was the individual named on the warrant," they said.
Brian told how the door to the house was unlocked as they were expecting their community nurse.
He said: "It just so happens that that's the time our community nurse was due to visit so the door was unlocked."
A Gwent Police spokesperson said: "Both parties were spoken to by officers. No injuries reported and no offences committed."