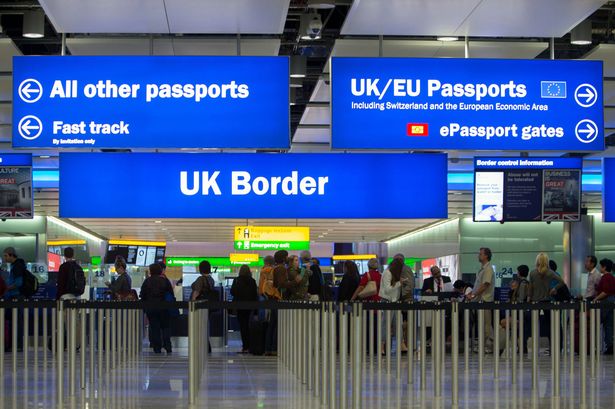 Potential migrants to the UK will have to score 70 points on the new system in order to qualify for a visa.
The government have revealed the new points system, which will be put into place January 2021.
Home Secretary Priti Patel hailed the new scheme an "historic moment" following Britain's exit from the EU, which will bring to an end the free movement rules in the UK.
So, how will the new system work?Potential migrants to the UK will have to score 70 points on the new system in order to qualify for a visa.
Three conditions must be met by prospective migrants in order to move to the UK, which total 50 points towards the 70-point threshold.
These are:
A job offer from an approved sponsor, such as an employer cleared by the Home Office. This will earn 20 points.
Have a job offer that is at a "required skill level". This will earn 20 points.
The ability to speak English to a certain level. This will earn 10 points.
From January 2021, the minimum salary required for migrants coming to work in the UK will be reduced from £30,000 to £25,600.
If migrants earn a salary above £25,600, they will earn the 20 extra points needed to get to the required 70-point level.
If migrants earn less than this – but no less than £20,480 – they may still be able to come to the UK by "trading" points earned on specific characteristics against their lower salary level.
As well as lowering the minimum salary threshold, the government is also lowering what counts as "skilled" from a graduate-level to an A-level qualified job.
Those who meet the three required conditions but don't earn more than £25,600 can still earn the 70 points needed to be granted a visa.If they earn between £23,040 to £25,599 they will earn 10 extra points.
Proportion of EU workers in the UK per occupation
Low-skilled factory & construction
Factory & machine operators
Food preparation & other skilled trades
Low-skilled administration & service
Drivers & mobile machine operators
Skilled construction & building trades
Leisure, travel & related personal service
STEM associate professionals
If their job is in an area where there are shortages of staff, as designated by the Migration Advisory Committee, they will earn 20 extra points.The MAC includes healthcare workers, engineers, scientists, teachers and tech workers on its list of occupations where there are shortages.
The government is also promising a fast-track visa scheme for foreign doctors and nurses to work in the NHS as part of the immigration overhaul.
Applicants coming to work in the NHS will receive preferential treatment with extra points under the points-based system, and no cap on numbers entering through the NHS route.
If prospective migrants hold a PhD in a subject relevant to their job they will earn an extra 10 points.
This is boosted to an extra 20 points if the PhD is in science, technology, engineering, and mathematics and is relevant to their job.
The most highly-skilled workers, who can achieve the required level of points, will be able to enter the UK without a job offer if they are endorsed by a relevant and competent body.
This "Global Talent" route will be opened to EU citizens on the same basis as non-EU citizens from January next year and was recently expanded to be more accessible to those with a background in science, technology, engineering, and mathematics.
The government says it will not implement a route for lower-skilled workers to come to the UK under the new immigration system, following the end of EU free movement rules.
They are instead telling UK businesses they will need to "adapt and adjust" and instead invest in "staff retention, productivity, and wider investment in technology and automation".
Irish citizens won't be subject to the new immigration rules and will continue to be able to enter and live in the UK as they do now.