A man that shocked commuters by pretending that he had coronavirus whilst on a packed train has had his charge upgraded and now faces up to seven years in prison. 
Prankster, Karomat Dzhaborov, fell to the ground on a packed train as he pretended to have a 'coronavirus attack' as his friends screamed, causing panic on the Moscow Metro.
Dzhaborov has been charged with premeditated hooliganism after his stunt.
Footage taken from a smartphone shows Dzhaborov wearing a face mask on the train. He then collapses to the ground as he starts performing a fake 'coronavirus attack' as daily commuters watch on.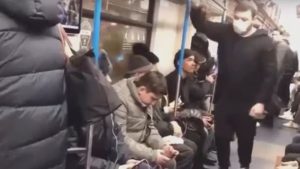 Passengers attempted to help him once he had fallen, with Dzahborov's accomplices screaming 'coronavirus!'
Once the train arrives at the next stop, the people on board quickly abandon the carriage.
Reports say that the police originally charged Dzhaborov and his accomplices with hooliganism. However, prosecutors have since upgraded the charge and he could now face 7 years in prison.
His lawyer Roman Shakhmantov said: "He is no longer accused of simply hooliganism, but now premeditated hooliganism."