A woman has shared images showing texts from a landlord, who offered to lower rent by £200 in exchange for nude pictures.
Georgia Linehan revealed a Whatsapp conversation between herself and a man posing as a landlord, who offered to reduced the rent of a property by £200 if she would send two images of her breasts every month.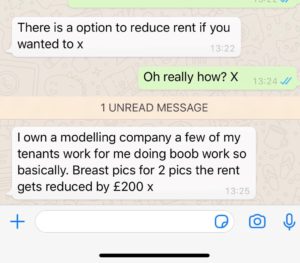 Georgia shared these messages on her social media to expose 'how dangerous some people on the internet can be.' The tweet she posted has gained almost 35,000 likes. She also captioned: "That's the last time I try and buy a house on Gumtree."
The exposed 'landlord' also claims that he owns his own modelling company, and has several tenants that are already using the service.
One person on social media noted that the images of the property are most likely to have been lifted from Zoopla. The flat itself is not available for rent, but is currently on sale for £375,000. Therefore, it seems that the fake 'landlord' is in fact using the site to try and obtain nude pictures from women.
The post was bought to the attention of Labour MP for Canterbury Rosie Duffield, who wrote: "Thanks for highlighting this @GeorgiaLinehan. Whoever you are, this is not ok. "Boob work" (vomit emoji). As you are so close, why don't you just #GetInTheSea!?"