Jean Disney, 87, was last seen in the Devon town of Tiverton at 3am Monday. 
Jean is thought to have fallen into a flooded river and its feared she has become the sixth person to die from Storm Dennis in five days.
Searches have been carried out by emergency services as well as members of the public, who have been advised to keep away from the swollen river.
Jean was last seen wearing a dark colures jacket over a dressing gown, and mountain rescue teams and firefighters are involved in the search.
Police have warned the public helping the search to stay away from the flooded areas.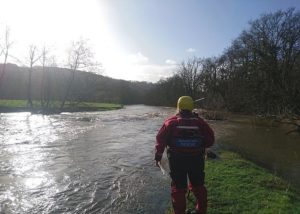 The Devon and Cornwall Police spokesman said: 'These searches are currently confined to the River Exe, as evidence at this time has strongly indicated that Jean fell into the water earl hours of Monday. Police are aware that local residents and concerned members of the public have been organising their own searches. Officers strongly urge anyone wishing to assist not to approach any areas immediately adjacent to the river, or any flooded areas.'