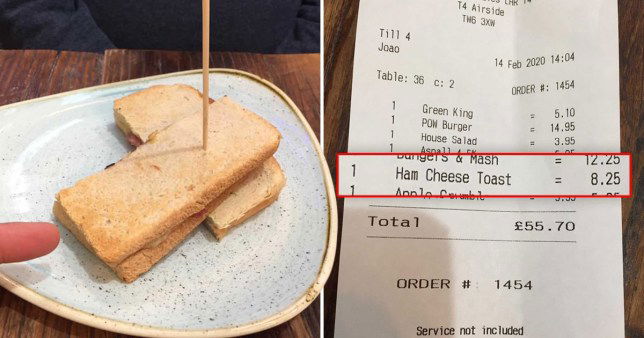 A customer at Heathrow airport has criticised a restaurant for charging £8.25 for a toastie they have described as 'pathetic.' 
Hannah Bennett posted a picture of the sandwich that is easily too small for the plate, and doesn't have any form of garnish.
Her post was captioned "A ham and cheese toasties costing £8.25 at the Prince of Wales pub in Heathrow Terminal four departures.
"Pathetic excuse for a meal. Not personally sure what the stick is doing as it's not structural."
Users from the Facebook page RateMyPlate agreed that the state of the meal was poor.
Victoria Powell said: "Oh wow. I wouldn't even embarrass myself by serving that! Shame on them. Hope you got a refund."
Alex Dik Gardner said: "Daylight robbery. Gatwick's not far off the same either."
Billy Potts added: "You'd get more for your money even on a Ryanair flight. That's a disgrace to be honest."
The Prince of Wales pub has also received poor reviews on TripAdvisor – where one customer shared that they paid £16.95 for a meal including two bacon sandwiches.