Another storm is brewing over the Atlantic and looks set to batter Britain like Storm Ciara and Storm Dennis did. Although officially not named yet, many forecasters are calling the new weather front Storm Ellen.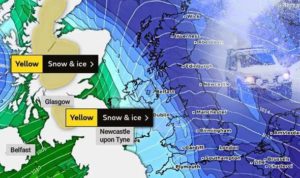 With six severe flood warnings still in place in the west of England and with a further two in Wales, the Environment Agency has said that the Uk should expect more severe weather changes due to climate change.
In a statement from the Department for Environment, Food and Rural Affairs (Defra), a minister, Rebecca Pow, said the 'top priority' at the moment was responding to flooding, and keeping people safe.
Ms. Pow, Speaking in flood-hit Worcester, on the River Severn, added that the Government had invested billions in flood protection schemes, with more money pledged. But she added that such extreme weather was 'something we're going to have to adapt to'.
The government recently announced millions of pounds of funding for a new supercomputer that will help the Met Office predict the weather much more accurately.