Residents on the Costa del Sol this morning have woken up in horror as they check the weather, as I Phone users have been issued with a Tornado warning on the top of their screens.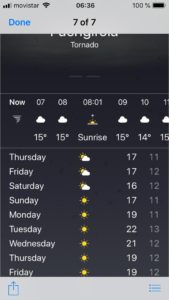 The Apple device has caused great alarm with readers now expecting a tornado today on the Costa del Sol Spain.
On hearing about this from our readers we contacted our weather forecasters to check the situation, and we are relieved to inform you whilst the weather is bad this morning there will NOT be a tornado on the Costa del Sol although plenty of rain.
How and where the tornado warning has come about we are currently unaware but we can assure all readers across the coast there is certainly no tornado today.
The hourly weather is as follows.
14°
Cloudy
Precip 34%
14°
Showers
Precip 40%
14°
Cloudy
Precip 37%
14°
Cloudy
Precip 32%
15°
Intermittent clouds
Precip 32%
15°
Intermittent clouds
Precip 28%
15°
Partly sunny
Precip 20%
15°
Mostly sunny
Precip 20%
15°
Mostly sunny
Precip 20%
15°
Mostly sunny
Precip 20%
16°
Mostly sunny
Precip 20%
15°
Mostly sunny
Precip 16%
15°
Mostly sunny
Precip 7%
15°
Mostly clear
Precip 7%
14°
Mostly clear
Precip 7%
14°
Mostly clear
Precip 7%
14°
Mostly clear
Precip 7%