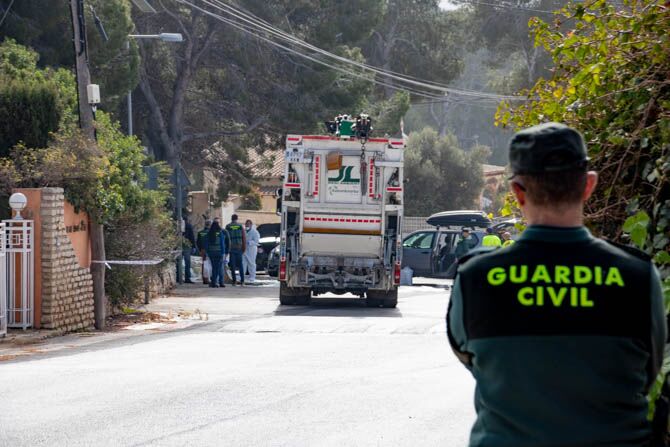 THE Dutch partner of a woman whose dead body was found by binmen in Teulada-Moraira yesterday morning has been arrested after reportedly handing himself in.
The 36-year-old victim, the mother of a young son, was discovered 'dressed to party' with several stab wounds, wrapped in a blanket and tied with ropes at around 8am.
According to reports, forensics confirmed the majority of the injuries were to the victim's forearms and hands, while the lethal stab wound is believed to have been to the neck.
Sources claim there were no immediate signs of sexual assault, though a sexual motive has not been ruled out.
Refuse collectors were apparently placing bags left outside of the bin inside when they noticed a large pool of blood and 'a lump that looked like a body wrapped in a textile garment'.
Moraira's Guardia Civil were called to the scene in Calle Mostoles in the centre of the El Teroro urbanisation, and the area was cordoned off.
Local residents told the Euro Weekly News the area was 'swarming with police' including forensics officers in white suits, and traffic was diverted.
An investigation team began searching through video footage from nearby hotel and apartment complexes before the victim's alleged partner today handed himself in to the Guardia Civil.
The deceased, thought to be South American, is believed to have been murdered on Sunday, February 16. The investigation continues.
Teulada Moraira Council announced a day of official mourning tomorrow, Wednesday, February 19, when the flags will fly at half-mast and planned festive events are suspended.The Consistory will summon five minute's silence at 1pm in front of the Teulada Council offices as a sign of sympathy and solidarity with the victim's family and 'to show condemnation of the incident
The deceased is the 11th victim of sexist violence in Spain this year, according to Government statistics, and the 1,044th since the figures began to be registered in 2003.