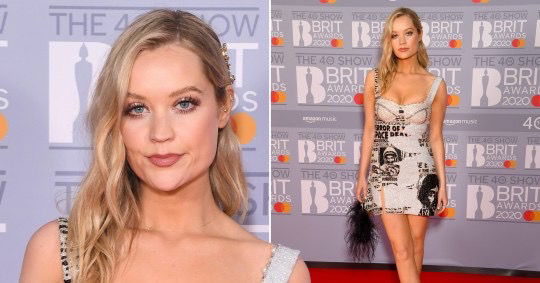 Laura Whitemore arrived at the Brit awards this evening, which is her first red carpet event since her close friend Caroline Flack's tragic death. 
Laura who hosts Love Island, after friend Caroline stepped down due to her assault charge, brought the glamour in her first red carpet appearance.
Wearing a newspaper-print gown which was covered in sequins, which boasts images of a front page was worn with vertiginous black stiletto heels. She had her furry handbag in hand to match the outfit. Styling her gorgeous blonde hair in messy curls with the front pinned back.
Laura confirmed she was attending the Brit awards on Tuesday after posting on her Instagram to fans saying:'Sometimes you just need to put on your dancing shoes,' while tagging the Brits and adding a love heart emoji.
It is the first time she has attended a public event since Caroline tragically died after taking her own life on Saturday.