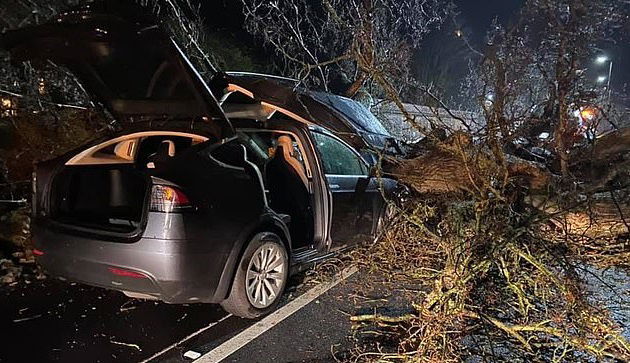 Two Tesla Model X cars that were travelling in opposite directions on the same road near the village of Sturminster Marsha on the 15th Feb had a miracle escape.
In a freak accident, an enormous oak tree was blown to the ground directly in front of both cars, using the in-built sensors, the Teslas applied the automatic brakes – saving the lives of all occupants.
The 400-year-old tree landed on his bonnet, avoiding the roof when the car ground itself to a sudden halt.
Mr. Sanderson, from Brentwood in Essex, said that had it not been for the automatic brakes, he and his family would have been 'toast'.
The other Tesla was carrying a family of four – all of whom were also uninjured. Both cars have since been confirmed as write-offs.