An ex-soldier who had his right arm blown off whilst in Afghanistan in 2008 has become the first former serviceman to be be given a £10,000 bionic arm on the NHS. 
Darren Fuller, a 43-year-old father from Essex, lost his right hand and forearm after a mortar misfired and struck him. Darren says he is amazed by the range of things he is now able to do, after missing out on so much following his injury.
He is now able to hug and play with his four-year-old daughter, Sky, as well as being able to eat with a both a knife and fork for the first time in many years.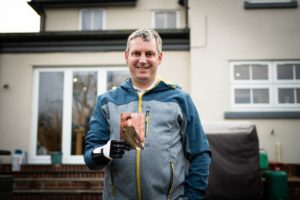 Darren has expressed how his new arm has given him a new lease of life.
The arm itself works by detecting electrical signals from the muscles in his upper arm. It was produced by a state-of-the-art 3D printer and provides it's users with 'unparalleled use of the fingers.'
Mr Fuller said: "I can now do so many of the little things that most people take for granted, I'm so happy.
"I can hug my daughter and play games with her in a way I have never been able to before, it's amazing.
"There are so many things I'm doing two handed compared to before, and so many things I'm still discovering. It's a really exciting time."