Residents from Hanham, Bristol, have been evacuated from their block of flats, after a tree collapsed into the building during Storm Dennis.
Emergency services were called to a block of flats, just off of Hanham High Street, after a tree collapsed into the building, with one girl's bedroom window being completely smashed. The girl told how she was laying on her bed as the tree fell and a branch pierced into her window.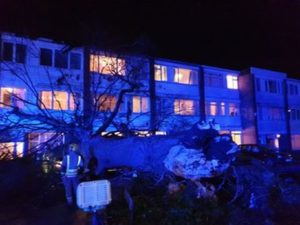 A few people were treated for minor injuries by South Western Ambulance Service. Hicks Gate Fire Station were also in attendance at the scene.
It is thought that the tree fell during a substantial hail storm which was accompanied by severe winds.
Avon and Somerset are still at the scene, and have cordoned off the area until the tree is collected.
People took to social media to showcase their reactions to the storm. One person posted: "Wow, glad no one was hurt. The street lights were bending like mad, my 2 year old was terrified!"
Another said: "Poor bloke about 5 doors up just had a tree come through his house. He wasn't too bothered, told the plod he was off to the pub to have a few. Respect."