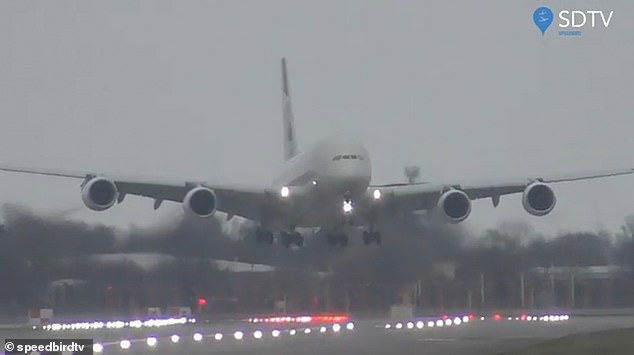 The footage shows a pilot landing a plane sideways at Heathrow airport after battling Storm Dennis's fierce 91mph winds. 
The Etihad Airways jet battled the winds at Heathrow and ended up landing sideways. The plane luckily landed safely.
Landing in Heathrow during #StormDenis ✈️ pic.twitter.com/3iYBYXSCBT

— CCTV_IDIOTS (@cctv_idiots) February 16, 2020



The UK is currently battling Storm Dennis, which has caused three people to lose their lives and one person is reported missing. Roughly 170 flights have been cancelled and the numbers are rising.
There is travel chaos across the whole of the UK going into Monday with flights and trains cancelled, causing issues for people who are going away for half term.
BBC journalist Christian Fraser and his wife have already had their travel plans ruined. They were due to fly to Gran Canaria yesterday, however their flight has been cancelled and they were given no other information. He said "No one has helped us and no one seems to know what's gong on".