About half of those who died were babies or toddlers and the others were roughly 10 or 11 years old in the fire at the Orphanage of the Church of Bible Understanding in the Kenscoff area outside Port-au-Prince, the Haitian capital.
Rescue workers were seen to arrive at the scene on motorcycles and did not have bottled oxygen or the ambulances needed to transport the children to the hospital, said Jean-Francois Robenty, a civil protection official.
"They could have been saved," he said. ″We didn't have the equipment to save their lives."
Late Friday afternoon, police raided another home also run by the Church of Bible Understanding and took away several dozen children in a bus over protests from employees.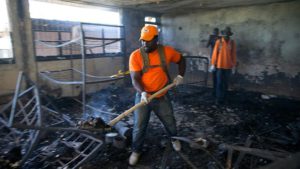 Although no definite cause has been reported, it is known that the orphanage had been using candles for light due to problems with its generator and inverter.
"We are aware of the fire in the children's home in Haiti," said Temi J. Sacks, a spokesman for the group, which is based in Scranton, Pennsylvania. "It would be irresponsible for us to comment until after all the facts are in."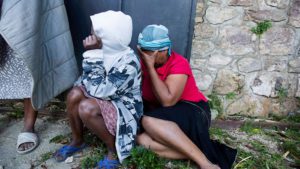 The Church of Bible Understanding lost accreditation for its homes after a series of inspections beginning in November 2012. Haitian inspectors faulted the group for overcrowding, unsanitary conditions and not having enough adequately trained staff.
More to Follow…