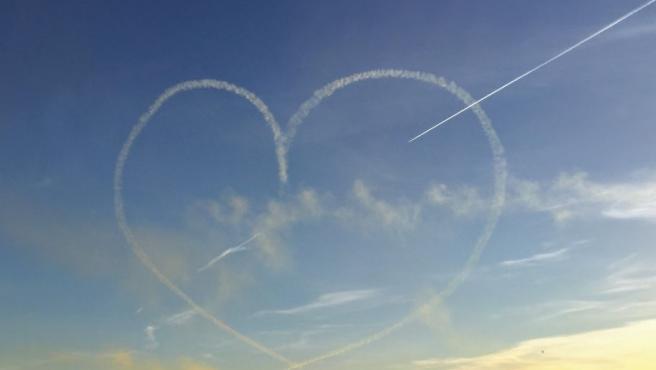 SPAIN'S Eagle Patrol Group marked Valentine's Day with their renowned skills, making a special air manoeuvre that drew a heart in the sky.
The aerobatic flight group that form part of the Spanish Air Force drew a heart among the clouds to thank civilians for their continued support and to wish them a Happy Valentine's Day.
The group shared the image of the heart on their social networks which read: "Happy Valentine's Day. In love with you, with the affection and the continuous support you show us."
♥️Feliz día de San Valentín♥️
.
Enamorados de vosotros, de las muestras de cariño y del apoyo continuo que nos demostrais.
♥️🇪🇸♥️🇪🇸♥️🇪🇸♥️🇪🇸♥️🇪🇸♥️
.

Síguenos en :
🇪🇸 Facebook: Patrulla Águila Oficial
🇪🇸 Instagram: @patrullaguila
.
.#SanValentin2020 #patrullaguila #corazon pic.twitter.com/yyPmFVmHHB

— Patrulla Águila (@patrullaguila) February 14, 2020



Formed in 1954, the Eagle Patrol is the aerobatics flight group of Spain's Air Force. With headquarters in Murcia's San Javier, the group are internationally renowned for their highly-skilled manoeuvres such as inverted looping and their ability to land in formation.