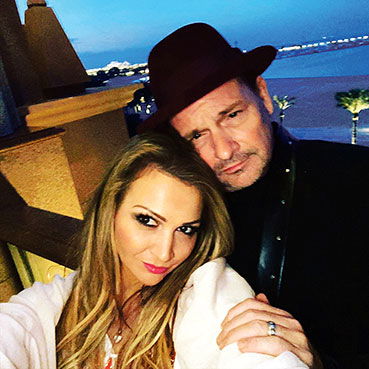 This week Celebrity Chef & Fellow Master Chef Steven Saunders, proprietor of The Little Geranium in La Cala prepares a delicious sharing dessert for a special home cooked Valentine's dinner!
I ALWAYS try and make Valentine's week an especially romantic time because although we all say those three little words often, it can be a bit routine, so no harm in a bit of extra effort from time to time.
Over the last couple of weeks I have been sharing some of my special unique recipes for making your own romantic dinner at home. If you missed them, you can find them online at www.euroweeklynews.com.
This year as a Valentine's treat for Michele I flew her to Dubai and Abu Dhabi. That sounds extravagant but it coupled up with a scheduled holiday and as we don't take many holidays we booked Emirates Palace Hotel in Abu Dhabi as a real treat.
One of the reasons for staying at The Palace is that Michele was a big fan of Sex & the City and the movie was filmed at Emirates Palace. If you saw it you will recall Samantha getting into all sorts of trouble with the local Arab police for being too sexy and eventually they were all thrown out!
It doesn't sound too romantic so far does it? Lol, I had to ask Michele why she wanted to go somewhere where it is illegal to hold hands after all this is our Valentine's treat!? "Well we don't hold hands much anyway" she said… as she pushed the button on the lap top to transfer the funds.
I had been to Emirates Palace many times during my time in Abu Dhabi when I was involved with Formula 1, but I had not stayed there and so we were both very excited.  I was also looking forward to meeting up with old friends and seeing my daughter Serena who is now living in Dubai.
We had a great night at Hakkasan with Serena and her boyfriend Clint (an avid reader!) and we arranged a special brunch day at The Westin in Dubai to celebrate our friend Carolyn's birthday.
Veuve Clicquot flowed along with Michele's favourite vodka and a buffet that was so huge you literally got lost amongst the crab legs and beef ribs! (They don't eat pork).
I was surprised to be recognised by so many guests at the brunch and by the head Chef of The Westin Dubai who follows me on Instagram.
Some guests thought that I was Bono from U2 and I played along and had some fun, until they asked me to sing the U2 song With or Without You!
When we got back to the hotel in Abu Dhabi we had a few disapproving stares from the locals. "Nothing wrong with a few drinks," Michele said as she held onto me. "Hush please," I said, "we will get arrested!"
Emirates Palace is the most beautiful and elegant hotel but sadly the staff are not well trained and so value for money it isn't.
The service is very amateur and no sign of a manager anywhere. When I asked to see a manager I was told no one was available! For one of the leading hotels in the world it was surprising and it is amazing that it has managed to stay open all these years.
Anyway back at home in lovely Spain and I am cooking up a storm for Valentine's. A great dessert to make for this sexy occasion is a sticky toffee pudding.
Easy to make, delicious to share and if you have any left over toffee sauce it could go over each other… as long as you are not in Abu Dhabi!
Steven Saunders's opinions are his own and are not necessarily representative of those of the publishers, advertisers or sponsors.
---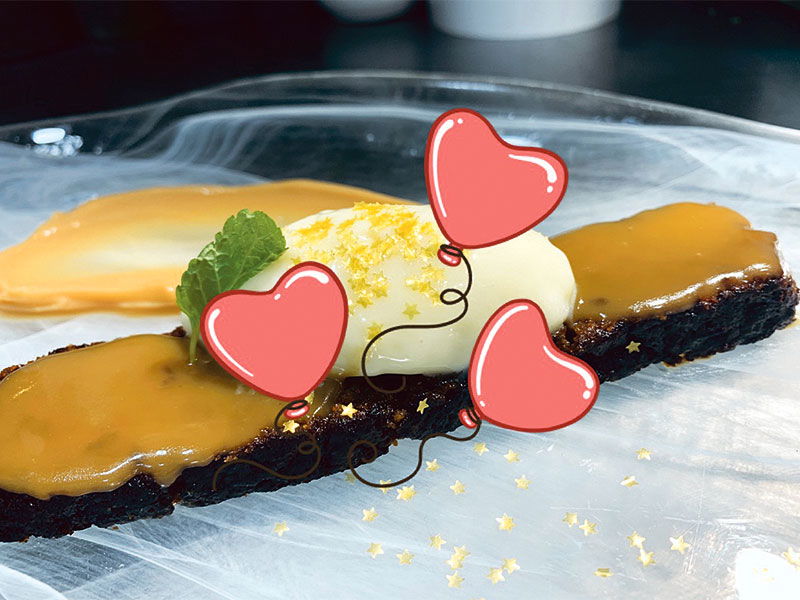 Valentine's Sticky Toffee Pudding
(Serves 6/8)
Ingredients:
120g of unsalted butter, softened
200g of light brown sugar
4 eggs beaten
225g of self-raising flour, sifted
1 tsp bicarbonate of soda
200g of dates, stoned
200g of sultanas
275 ml of boiling water
 For the Toffee Sauce
125g of unsalted butter
175g of muscovado brown sugar
70g of double cream
How to make:
Preheat the oven to 160°C and line a loose bottom cake tin with greaseproof paper.
Using a wooden spoon or food mixer, whisk the butter and sugar until pale and slowly add the beaten eggs until combined.
Soak the dates and sultanas in the boiling water for 10 minutes until cool, then blend in a food processor. Pour mix into a clean bowl.
Now add the flour and the bicarbonate of soda and bring together to create a very runny batter with a spatula. Pour into the prepared cake tin and bake for one hour or until springy to the touch. Pierce with a cocktail stick and if it comes out clean it is cooked.
While the pudding is baking, make the toffee sauce. Combine the butter and sugar in a small pan and place on a low heat. Stir to dissolve the sugar then mix in the cream to finish. Whisk in until the sauce is smooth. Keep on a low heat until the sauce is thick. Pass through a sieve and keep warm.
Cut the cooked pudding into eight equal-sized portions (see picture) and serve with the hot toffee sauce and some vanilla ice cream or sweet vanilla cream.
Follow Steven on Instagram … saunderschef  –  Email any questions … [email protected]
The Little Geranium, Winner of Best Contemporary International Restaurant 2019  Costa Del Sol – www.thelittlegeranium.com