MASS protests have taken place across Spain's Andalucia to denounce the suffering farmers face in the agricultural sector – described as the worst experienced in more than 50 years. 
Organised by the Agrarian Association of Young Farmers (Asaja), the Coordinator of Farmers and Livestock Organisations (COAG) and the Union of Small Farmers (UPA), farmers and supporters took to the streets in regions such as Valencia, Lleida and Córdoba to protest against the "critical" situation imposed on the agricultural sector.
They state that sanctions enforced by Donald Trump's US government have made life in the rural world wholly unsustainable. A blockade with tractors was also in place in Lucena and Llieda, where unions have called for a general strike to continue.
Sense pagesia no hi ha futur.
Tractorada massiva avui a #Lleida. #SalvemLaPagesia#SalvemElMónRural pic.twitter.com/g4boKmogfo

— Jordi V. Pou (@JordiVPou) February 14, 2020
In Turia, thousands of farmers and hundreds of tractors halted traffic in the city centre with a huge protest under the motto: "Prou d'enganyar als agricultors" (Enough to deceive the farmers), where they demanded fair prices on agricultural products.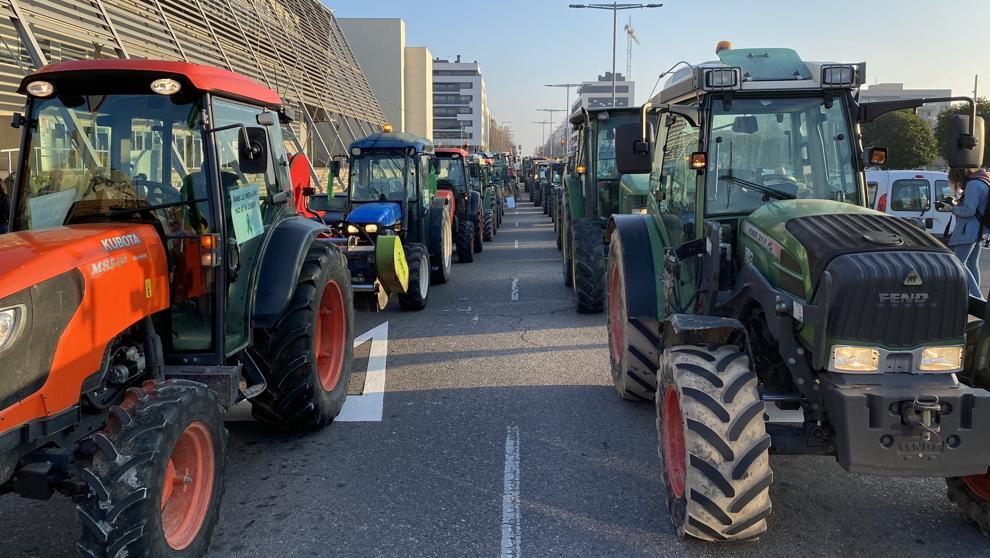 At a press conference held at the end of last month, representatives of the unions agreed to unite against the 'inaction of administrations'. Miguel Cobos, the Secretary General of UPA Córdoba, lamented the many problems that the agricultural sector is currently suffering where "prices are now on the ground".
He added that many crops are now worth the same price garnered over 30 years ago and to make matters worse, the olive grove sector, the most important export, has been tremendously impacted.
Virtually all farmers in the region and across Spain are not profiting from their work, leading to those who have come from generations of farming to entirely leave the sector.
For this reason, they ask for solutions from the Board, the Government of Spain but, above all, the European Union (EU), who should defend farmers against the attacks of the United States.
Almost all farmers are immersed in a serious profitability crisis, where cuts in aid from the European Union and the imposition of trade barriers at a global level which put obstacles on exports, have led to a sector in crisis.
🛑 Comencen els parlaments de l'acte unitari en defensa de la pagesia a la plaça Sant Joan de #Lleida. Han arribat en mig miler de tractors pic.twitter.com/RAL8eHhbzu

— Estela Busoms (@buslleida) February 14, 2020