Dog walker Martin Fletcher 55 who adores his two jack Russells Ben & Jerry adores them so much when a nasty Rottweiler set upon his pets, he lost a tooth protecting them as he himself had to bite back!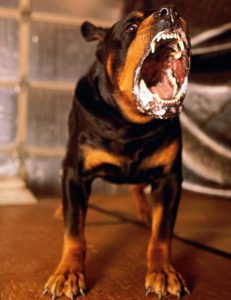 Martin was taking his normal dog walk when a strangers dog approached off it's lead.
In an unprovoked attack the strangers Rottweiler starting mauling one of the terriers that left it needing over 30 stitches.
Martin at first tried in vain to pull the dog off, but failed and so thought give him a dose of his own medicine and bit the dog back.
His hand had already been bitten by the savaging dog with the owner fearing his dogs were going to mauled to death and so took the drastic action of sinking his own teeth into the attacking dog.
Once Martin bit the dogs ear, the dog retreated and as he opened his mouth his tooth fell out as the bite had to be so hard.
The stranger just gathered his dog and walked away, leaving Martin to pick his beloved Ben off the floor and rush him to the vets, 36 stitches later and a vets bill of 800GBP Ben thankfully survived after an emergency operation.
Martin also had to under go a tetanus jab for his bites.
Ben is now thankfully recovering well after the incident to which Martin has reported to the police.