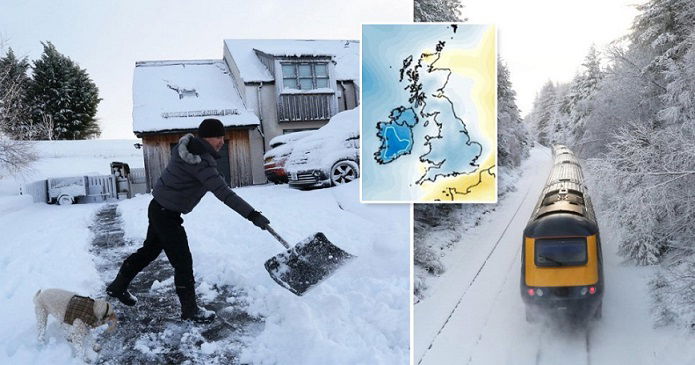 The Uk is bracing itself for another miserable week of wet weather, with snow and ice set to cause travel disruption today as Storm Dennis whips up powerful winds similar to the ones created by Storm Ciara.
As always, travellers are advised to check with train services and airlines over cancellations before they travel,
The north of England and vast swathes of Scotland have been warned of 'blizzard conditions' by the Met Office, which has issued yellow weather warnings across the regions.
Forecasters say 10cm of snow could fall in higher parts, while Northern Ireland could also be affected. In Sheffield, the second day of snow showers has caused traffic diversions, with drivers warning about treacherous back ice on the roads.
Across the rest of the country, heavy rain and gales are expected to cause travel disruption when the fourth named storm of the 2019-20 season, Dennis, arrives.
The Premier League fixture between Manchester City and West Ham has been rearranged.
The sides now will meet on Wednesday, February 19 at 7.30pm GMT.
News that Premier League fixtures are risk of postponement by Storm Dennis has not sat well with football fans.
One wrote on Twitter: "Please be kind storm Dennis. We need Saturday football!!"