An appeal has gone out to find missing Dennis Walker in Spain's Benidorm.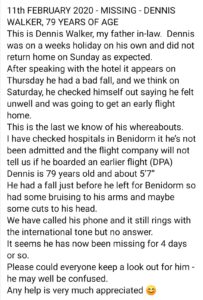 Dennis hasn't returned home after a weeks holiday on his own.
He had a bad fall on Thursday at his hotel and checked out early feeling unwell citing to hotel staff he was going to get an early flight home and hasn't returned to the UK.
There is no response to his phone which is still seemed to be in Spain due to the ring out international tone.
We appeal for everyone to look out for Dennis in the Benidorm region especially and to contact our news desk or the police on any sighting.