A FASCINATING exhibition charting the history of shipwrecks and events on the high seas in Almeria opened this week at Vera's Victoria convent.
The ''Naufragios y sucesos en el Mar de Almería. Siglo XIX' exhibition features a series of lighthouse and nautical-themed models and teacher and artist Emilio Sanchez Guillermo's drawings of lighthouses in Almeria and around the world.
Also on display are 10 historical documents from the Vera municipal archive enlarged into large format, and dozens of informative panels designed by Vera Historical Museum director and archaeologist Domingo Ortiz.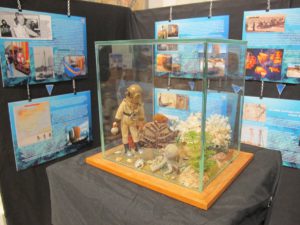 The exhibition complements a 600-page book of the same name by historian Angel Carralero and Carboneras Mesa Roldan lighthouse keeper Mario Sanz. The lengthy tome explains in great detail how the sea in south-east Spain has been the setting for important historical events, ranging from piracy and smuggling to wars and conflicts, but which are not always well known.
Commenting at the exhibition inauguration and book presentation on Monday, Carralero said it was a historical theme which is "difficult to study and reference."
The historian explained this was due to the "wide dispersion of the documentation consulted, as during the first years of the 19th century the scarcity of general informative newspapers left large gaps, unlike in the latter years when the archive information was complemented by numerous stories in the press."