GUARDIA Civil have recovered stolen heavy machinery with a total value of some €50,000 at Almeria port and made one arrest.
Officers made the discovery during checks on vehicles boarding ferries bound for North Africa.  In an inspection of one particular lorry the driver claimed he was just transporting personal goods and items, but something about his story did not ring true and the Guardia suspected there was in fact undeclared merchandise in the truck.
When they took a close look in the back they found a large machine and a number of mechanical pieces belonging to other machines hidden behind a row of electrical goods.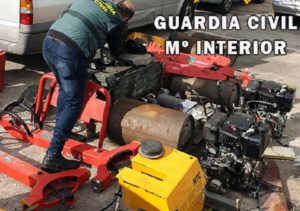 It turned out that the pieces came from different machines, among them a two-tonne road roller. Further investigations linked the machinery recovered to reports of thefts in Coslada in Madrid, Lliria in Valencia and in Zaragoza.
The driver, identified as 33.year old M.H. from Mostales, faces three charges of theft