HUNDREDS of people gathered at Cartagena port on Sunday to pay homage to the immigrants who have lost their lives while trying to cross the Mediterranean and reach Spain and other European countries.
This was the sixth year of staging the act as part of the city council Culture department's 'Cartagena Piensa' programme of 'Aquí solo queremos ser humanos' (Here we just want to be human beings) days for solidarity.
Among those attending the event staged at the whale's tale inner dock were Cartagena Social Services councillor Mercedes Garcia and other council members, including Unidas Podemos IU Equo councillor Aurelia Garcia and Movimiento Ciudadano de Cartagena councillor Arantxa Perez.
"They played with life and they lost when they tried to find something as legitimate and fair as peace, freedom, work and a decent life for themselves and for their families. We do not want, in any way, to accept as normal the tragic end of some many innocent lives. We accept our responsibility as human beings, honouring and dignifying their memory, their lives and their dreams cut short", stated a manifesto read out at the event.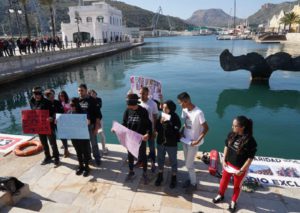 There were also poems and statements to sum up the trials and tribulations of displaced persons, as well as live music.
The gathering had been organised by a series of organisations and institutions, among them the Red Cross and associations for immigrants and vulnerable groups in society, with the collaboration of the University of Murcia Sociology department, the Asociacion Amigos de Ritsona for refugees and migrants and Cartagena Piensa, with the support of the city council.