A 64-YEAR old woman who got lost in the Gador mountains on Saturday is safe after she was located and evacuated by helicopter.
Guardia Civil working with Local Police and the Rural Guard were mobilised after a call to the 062 emergency number reported the Dalias resident had gone out walking in the afternoon but had failed to return home. She was last seen in the Cerro de la Garita zone, but her exact location was unknown.
The rescue team set about combing the area and at about nine on Sunday morning they heard her cries for help coming from the difficult to access Pastran hill. A Guardia Civil air service helicopter supported by the GREIM mountain special rescue group based in Granada went to her assistance, taking her an immediate medical check-up.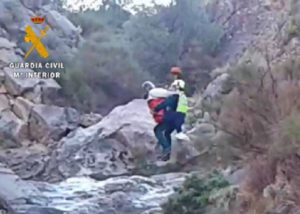 It turned out she had got caught out by the sun going down while still on the mountain. She lost her bearings in the murky conditions and decided to stay where she was rather than risk suffering an injury trying to get down the mountain.