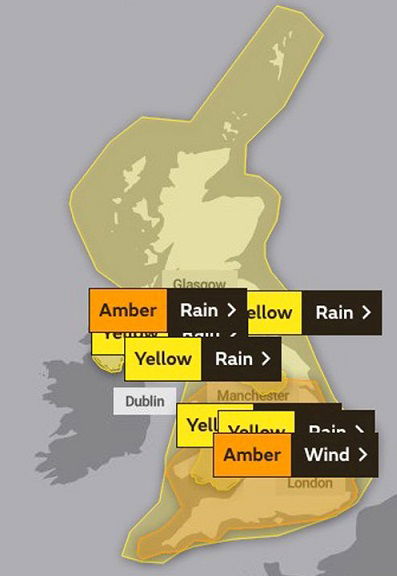 Storm Ciara – the worst tempest to strike the UK in seven years – will batter Britain throughout today, but more havoc is on the way.
A "risk to life" warning has been announced by weathermen ahead of Storm Ciara's arrival. the threat from Ciara is so severe that tornado warnings have been issued in parts of the UK.
Tom Defty, a chief meteorologist at the Essex Weather Centre, even warned about the threat of tornados, citing a "danger to life".
He said: "Squall lines, a narrow band of high winds and storms associated with a cold front, are expected to develop during Sunday afternoon/ evening (England and Wales) which will lead to localised stronger gusts and risk of tornadoes."
Amber and yellow weather warnings are in place across most of the UK with 60mph gales being predicted. Passengers have been advised to check with their airlines to see if there are any flight cancellations before they leave for the airport.