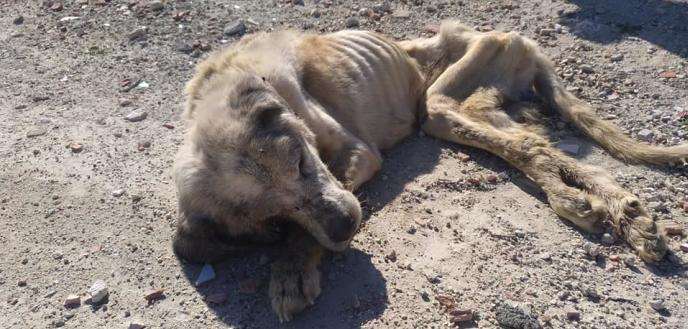 THE Local Police of Elche in Spain's Costa Blanca have launched an investigation to locate the owner of an abandoned dog which was found next to a rubbish bin in a severe state of malnutrition.
The canine, who officers have named Ragnar, was found by a resident earlier this week in Vallongas which lies in the municipality of Ilicitano.
Ragnar, who is estimated to be between the age of 6- and 7-years-old, weighed only 18 kilos, far below the normal weight of an animal of this size. It is reported that the animal is fighting for his life at a veterinary clinic and is suffering from severe anaemia. Currently, vets are performing a range of diagnostic tests, including a CT scan, X-rays and an ultrasound to determine any underlying conditions.
The Local Police have asked for the public's help in finding the owner of the dog who is wanted for animal cruelty as unfortunately Ragnar was not microchipped. It is understood that Ragnar is extremely friendly, indicating that he was once a domesticated pet.
The animal protection association 'Huellas Salvadas Asociación Protectora De Animales' have also asked for donations to pay for Ragnar's medical care to ensure that he is given the very best chance in life.
⚠️ ACTUALIZACIÓN RAGNAR⚠️ Jueves a las 10:55 h.Hoy necesita que le enviéis mucha fuerza🙏, va a entrar al TAC y tenemos que dormirlo.Su ESTADO sigue siendo GRAVE y la prueba es complicada por lo que necesita todo nuestro apoyo 💓💓💓💓🐾.Muchas gracias por todos los mensajes preocupándoos sobre el estado de Ragnar.Os enseñamos vídeo de cómo Ragnar ya es capaz de mover la cola, sabe que lo están cuidando y que vamos hacer lo posible por darle la oportunidad que se merece.#NoAlMaltratoAnimal #TodosConRagnar

Geplaatst door Huellas Salvadas Asociación Protectora De Animales op Donderdag 6 februari 2020
As Euro Weekly News understands, anyone with information is asked to contact the police and donations can be made through the Huellas Salvadas Asociación Protectora De Animales website.