The number of deaths from China's coronavirus outbreak has risen to 722 on Saturday, surpassing the death toll from the SARS (severe acute respiratory syndrome) outbreak on the mainland and Hong Kong almost two decades ago. 
The total number of infections across China has now reached 34,546.
Wuhan.
A United States citizen has died from the new coronavirus in Wuhan, China, in what appeared to be the first death of an American from the outbreak.
Few details about the American, who died on Thursday, were immediately available. The person was around 60 years old, according to the United States Embassy in Beijing. Two people familiar with the matter said the person was a woman and had underlying health conditions.
"We offer our sincerest condolences to the family on their loss," said a spokesman for the embassy. "Out of respect for the family's privacy, we have no further comment."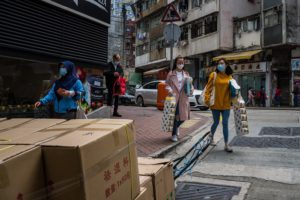 Car factories are idling in China, raising global concerns.
Chinese car and auto-parts factories may stay closed longer than expected because of the coronavirus, increasing the chances that assembly lines in Asia, Europe and the United States could grind to a halt because of shortages of components.