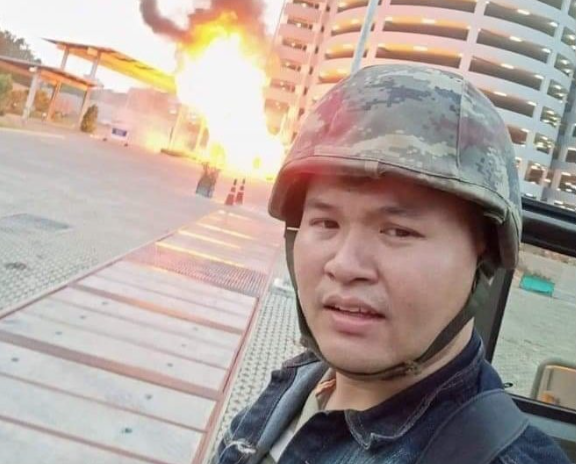 A TOTAL of 17 people have been confirmed dead in the mass shooting in Thailand, with the gunman still at large, holding at least 16 people hostage. The death toll is expected to rise with 14 people wounded at this time, as reported by the Bangkok-based Erawan Centre. 
In the wake of the unfolding atrocity, a police spokesperson said: "The gunman used a machine gun and shot innocent victims resulting in many injured and dead."
The gunman, identified by police as Sergeant Major Jakapanth Thomma, stole an army vehicle and also posted photos and videos of himself in full tactical gear as the attack in Korat was carried out.
Local sources indicate that he has taken at least 16 hostages on the fourth floor of the shopping centre and that the Thai special forces are now preparing to storm the building. It is reported that the police have also taken the man's mother from the Chaiyaphum province to Korat in the hope that she can persuade her son to surrender.
Video and photos circulating online show panicked scenes, with people running for their lives and the sound of automatic gunfire filling the air. Police in the province said they have sealed off a Terminal 21 shopping mall but have yet to capture the gunman.
MASS PANIC IN THE SHOPPING MALL OF NAKHON RATCHASIMA, THAILAND AFTER A THAI SOLDIER HAS SHOT AT LEAST 12 PEOPLE DEAD AND CURRENTLY HOLDING SEVERAL HOSTAGES pic.twitter.com/IQx1hglvug

— freezerohedge (@freezerohedge1) February 8, 2020



Unfolding events
The gunman reportedly shot several people at a private home, leaving two dead and one injured. He then drove to his army base and stole more weapons before shooting his commander and several guards, one fatally. He subsequently fled the base and shot a pursuing policeman, shooting civilians on the street before fleeing into the mall.
Once inside, the attacker fired at a cooking gas cylinder inside the shopping centre's food court, causing it to explode and catch fire, causing shoppers to run for their lives.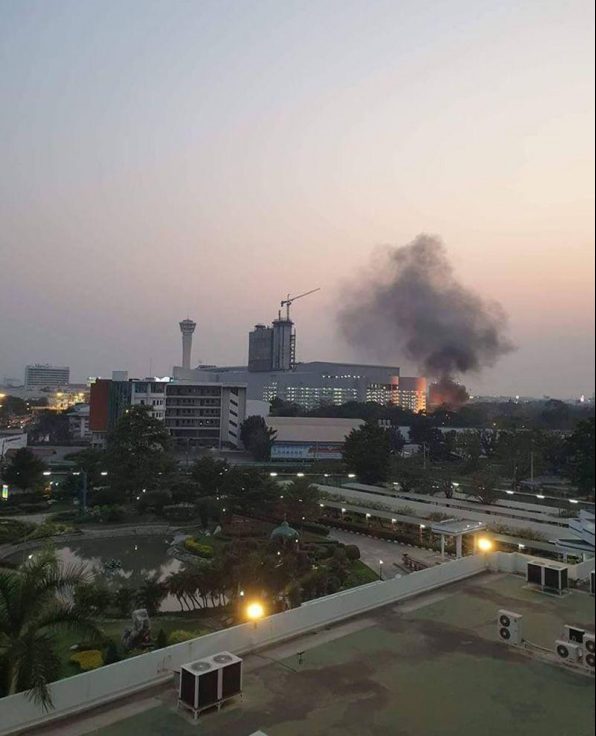 Around 8.30pm (local time), it was reported that special forces troops were preparing to "engage" the shooter inside the shopping centre. The army asked media outlets to stop providing live coverage in order to avoid giving the suspect information about official activities.
#Thai soldier has killed at least 10 people in a mass shooting and taken hostages inside a shopping mall while taking selfies and livestreaming on social mediahttps://t.co/1oJn0qCWVipic.twitter.com/yPfmm69Pbq

— RT (@RT_com) February 8, 2020
The slain commander has been identified as Col Anantharot Krasae, with whom the gunman reportedly had a conflict with. A 63-year-old woman said to be Col Anantharot's mother-in law was also killed at the camp, along with another soldier.
Wearing a military helmet and uniform, the suspect had been updating his terrifying atrocities in real time on social media as he hid inside the Terminal 21 Korat shopping mall. He said in one chilling video clip posted on Facebook that he was exhausted from shooting his victims during the ongoing massacre, stating: "I'm tired now. I can't move my finger anymore."
#THAILAND MASS SHOOTING compiled by @ASBreakingNews #korat #thai pic.twitter.com/KUNCa7kk4t https://t.co/Ka6Xmu5ekf

— ∆LPH∆ (@alphaOSINT) February 8, 2020
Thailand has one of the highest rates of gun ownership in the world but mass shootings by soldiers targeting civilians are rare.
We at Euro Weekly News will provide you with updates on this breaking news story – please keep checking for live updates.