Madonna reacted with fury after London Palladium dropped the curtain and shut the sound off before the end of her live show on Wednesday night.
The singer posted a video of the show on her Instagram page, https://www.instagram.com/p/B8OPQ-7B1Ml/, in which she can be heard shouting, "Censorship. Motherf***ing censorship. Artists are here to disturb the peace. F*** you," as the curtain falls.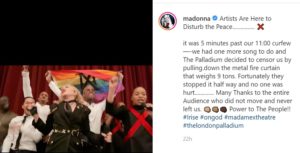 Alongside the video, Madonna wrote: "It was 5 minutes past our 11:00 curfew – we had one more song to do and The Palladium decided to censor us by pulling down the metal fire curtain that weighs 9 tons."
She added: "Fortunately they stopped it half way and no one was hurt………….. Many Thanks to the entire Audience who did not move and never left us. Power to The People!