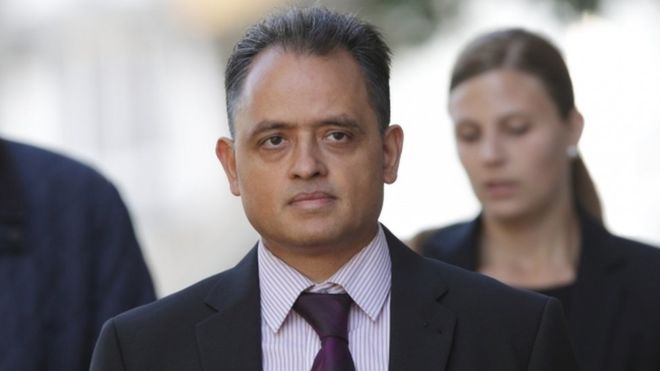 A GENERAL PRACTITIONER who preyed on the fears of female patients to conduct intimate examinations for his own sexual gratification has been jailed for life.
Manish Shah, 50, was branded a 'master of deception' after being convicted of 90 seperate sexual offences against 24 women.
During his trial at the Old Bailey in London, the court heard how the GP used instilled fear about cancer on his patients to persuade women as young as 17-years-old let him examine them unnecessarily.
Prosecutor Kate Bex QC told jurors that Shah played on the women's worries about cancer to get them to consent to the unnecessary examinations but said they were not properly informed. In addition, some of the victims were classed as especially vulnerable due of their age or because their family had a history of the disease. Ms Bex said:
"Fear is an incredible motivator and few health concerns are scarier than cancer.
"Dr Shah exploited that and used it for his own personal gratification."
Shah would commonly use a news story about Angelina Jolie having a preventative mastectomy when asking to examine his patients breasts, and also would mention the now deceased reality TV star Jade Goody when he told women that an examination was in their best interests.
Ms Bex described Shah's behaviour as "sexualised" and that he would give his patients hugs and kisses, singling some out as "special" and expressing that he had a soft spot for them. Furthermore, he did not always wear gloves and one patient was once left naked on an examination table.
Shah had denied the charges and in his defence, justified an examination by suggesting it was "requested" in his medical notes.
Handing down his sentence today (February 7), Shah was ordered to serve three life sentences with a minimum of at least 15 years in jail.
Outside of court, Detective Superintendent Tara McGovern said:
"Mr Shah placed himself in a busy surgery as a GP and accessed vulnerable women and preyed on their vulnerabilities so that so he could carry out unnecessary clinical examinations for his own sexual gratification.
"He has caused significant harm to these women and has betrayed the trust they placed in him as their doctor.
"It's been a long process – we've spoken to 130 women, we've taken dozens of statements and so we thank the victims for their patience."