This week Celebrity Chef & Fellow Master Chef Steven Saunders, proprietor of The Little Geranium in La Cala prepares his famous duck salad fit for a Valentine Princess!
In last week's article I wrote the first part of cooking your own amazing Valentine's dinner at home. If you missed it that recipe is on line at www.euro weeklynews.com. This week I am sharing a rather special Valentine's starter.
IT was 1993 and on the menu we had a crispy duck salad starter and everyone loved it.
The previous year in or around November 1992, Princess Diana had been in for lunch at The Pink Geranium in Cambridgeshire and she had chosen the duck salad although she usually only ate fish, chicken and vegetarian food.
She told us that she would eat red meat occasionally if it was very well done. "It's very well done," the waiter explained "it's slow cooked for three hours and then crispy fried..
"Perfect," Diana said, "I will try it!"
After lunch she called me over to speak with her. "Steven" she said, "never take the duck dish off the menu because it is fantastic!" I laughed and agreed that I wouldn't.
I did think about calling it Princess Diana's Crispy Duck on the menu, but that would be tacky and if I had she may never have returned, so I kept it an in-house secret.
I have always offered a special Valentine's menu for the whole week of Valentine's as the day itself always fills up really quickly and to be honest the day before or even the day after Valentine's is just as good, if not better, as there are less people.
On one of these days we had a call from Buckingham Palace to say that a member of the Royal Family would like a table Valentine's week. I had expected it to be for Princess Diana but in fact it was for Prince Andrew with a male colleague.  So whilst couples were romancing we had special Royal guests in the restaurant… two men!
On the exact same night we also had Jeffrey Archer booked in with his wife Mary. They often visited and had their usual table by the window which was called Harry's table (not named after Prince Harry!), Prince Andrew's guest had ordered the duck salad to start with and so had Mary, Jeffrey's wife.
The waitress took both tables together on the tray and so that she didn't get confused we told her, this one is for Mary and the other one is for Prince Andrew's guest. The waitress was a bubbly girl, a bit zany.
Her name was Polly and she always reminded me of Polly from Fawlty Towers, she was a bit naïve, professional, but easily confused. Off she went and delivered the salads.
"Here is Diana's salad," she said. Prince Andrew looked up and said "Diana? Why is it called Diana's salad?" "Ah," said Polly. "It's because we have a special guest called Diana who always orders this salad, she's a friend of the Archers." (Lying sweetly just like Polly from Fawlty Towers would!)
When they told me the story in the kitchen I nearly had a heart attack! Diana's salad was our in-house secret like the table which the Royals often sat at which we called the Royal Box, but we had never disclosed that to the Royals, we just called it table one.
On my hands and knees in the kitchen, I said "why the fudge did you mention the Archers?" Polly explained that she got in a muddle and looked around and just saw the Archers. "Oh Jesus," I said!!
"We have probably got away with it," Polly said, "don't worry."
Anyway the evening went well and as guests were leaving Prince Andrew was talking to Jeffrey Archer. "I loved your friend Diana's duck salad," he said. "Diana?" Jeffrey said, "Who is Diana?" "Can't be Charles' Diana" Jeffrey laughed, "Because she is a vegetarian!"
They all chuckled away, whilst I covered my head in a kitchen tea towel unable to face them!
Steven Saunders's opinions are his own and are not necessarily representative of those of the publishers, advertisers or sponsors.
---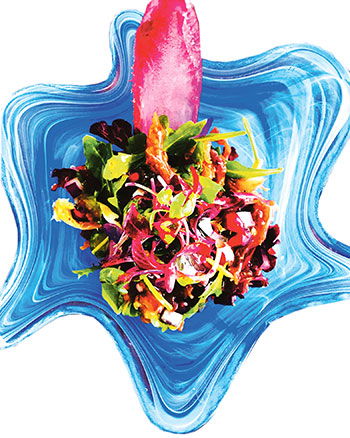 Famous Crispy Duck Salad
(Serves two)
Ingredients
1 small duck or a ½ duck
4 tablespoons of plain flour
Maldon salt
1 green fresh chilli shredded finely (Julienne) without seeds
1 tablespoon of finely shredded radish
½ tablespoon of finely shredded root ginger
Various mixed salad leaves
2 tablespoons finely shredded Julienne of spring onion
1 bunch of fresh coriander
Seeds from half a pomegranate
For the dressing
2 cloves garlic crushed
Juice of 1 lime
Juice of 1 orange
200ml of sweet chilli sauce (available from the supermarkets)
2 tablespoons of natural soy sauce
1 teaspoon of dried chilli flakes
1 stick of cinnamon
2 pieces of star anise
1 teaspoon of sesame oil
Juice of 1 lemon to finish
Method
Firstly roast your duck for about 2½ hours on a slow 150ºC. Remove it and let it rest for 10 minutes or so.
Break the meat off the carcass into small pieces using your hands covered with latex gloves, but being careful to discard any bones or gristle. Remove all the meat from the leg also.
Make the dressing by mixing all the ingredients together and heat on a medium heat in a heavy saucepan.
After 30 minutes pass the sauce through a sieve into a clean bowl or pan. Taste, season and add the lemon juice and the sesame oil.
Toss the roasted duck pieces through plain flour and fry in a hot wok with approx 2cm vegetable oil or in a deep fat fryer at 190ºC, cook for one minute and then drain onto tissue and season with Maldon salt.
Put the duck in a clean plastic or glass bowl and add two heaped tablespoons of the dressing/sauce.
Now add the ginger, radish, spring onion, fresh chilli and two small handfuls of mixed washed salad leaves and toss it all together. Finally add the pomegranate seeds and the coriander.
Divide in two and serve the salad in small pretty bowls.
Follow Steven on Instagram … saunderschef  –  Email any questions … [email protected]
The Little Geranium, Winner of Best Contemporary International Restaurant 2019  Costa Del Sol – www.thelittlegeranium.com